Media inquiries can be emailed to: communications@abog.org
Remembering Philip J. DiSaia, MD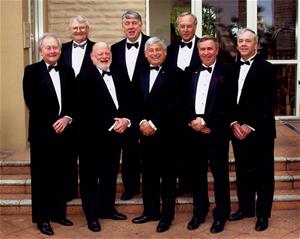 Philip J. DiSaia, M.D., a world-renowned leader in the field of Obstetrics and Gynecology and in the subspecialty of Gynecologic Oncology, passed away on September 27, 2018.
Dr. DiSaia is pictured at right, in center of front row with other members of the ABOG board in 2003.
After earning his bachelor's degree from Brown University, Dr. DiSaia completed his medical degree at Tufts University in Massachusetts. He completed his residency at Yale University in Connecticut and his gynecologic oncology fellowship at MD Anderson Hospital and Tumor Institute in Houston, TX. Dr. DiSaia also received an honorary doctorate degree from the University of Genoa, Italy.
As a gifted gynecologic oncologist and researcher, Dr. DiSaia is well-known for dedicating his career to the study of ovarian carcinoma and identifying better methods for prevention, early diagnosis, and treatment. He authored and co-authored several textbooks, including Clinical Gynecologic Oncology, which is considered to be the most widely read textbook in the subspecialty. Now in its 9th edition, it has been translated into multiple languages.
Dr. DiSaia served in various key roles throughout his illustrious career, including Chair for the Department of Obstetrics & Gynecology at the University of California, Irvine; Past President of the Society of Gynecologic Oncology (SGO); Past President of the American Board of Obstetrics & Gynecology (ABOG); and Group Presiding Chair of the National Cancer Institute's Gynecologic Oncology Group (GOG). His numerous recognitions include receiving the University of California Gold Medal and a Certificate of Commemoration from the United States Senate.
Dr. DiSaia served the American Board of Obstetrics and Gynecology in numerous roles for almost 30 years. Dr. DiSaia was an examiner in the certification process for specialists and subspecialists. He was a member of the Division of Gynecologic Oncology in 1987 through 1993. He subsequently became a member of the Board of Directors in 1994 and also served as the Chair of the Division of Gynecologic Oncology from 1995 to 2000. He was Vice-President from 1997 to 2000, President from 2002 to 2006 and Chairman from 2006 to 2010. Dr. DiSaia was a founding member of the Foundation for Exxcellence in Women's Healthcare and served on that Board of Directors for many years. He was a friend and mentor to many past and current ABOG Directors and volunteers. He and his wife, Patti, warmly welcomed new Board members at meetings, and they helped introduce them into the culture of the Board family and the mission of ABOG.
"Dr. DiSaia is universally recognized as one of the best of the best by both his patients and colleagues. He has had a profound impact on women's health through his clinical work, teaching, research, and leadership roles at ABOG," said Andrew J. Satin, MD, President of ABOG.
"His textbooks were essential reading for generations of obstetricians and gynecologists, and gynecologic oncologists," added Dr. Satin. I was fortunate to meet and be welcomed by him to the ABOG Board of Directors. As extraordinary as his professional stature, I was most impressed by his warmth, kindness, and mentorship of so many of us. Although in different subspecialties, we had a common interest in the potential role for simulation in training and certification. His vision, support and encouragement were essential in moving ABOG in this direction. We have all been truly blessed and have benefited from his accomplishments, dedication, and friendship."