Media inquiries can be emailed to: communications@abog.org
National Academy of Medicine Norman F. Gant/ABOG Fellow Announced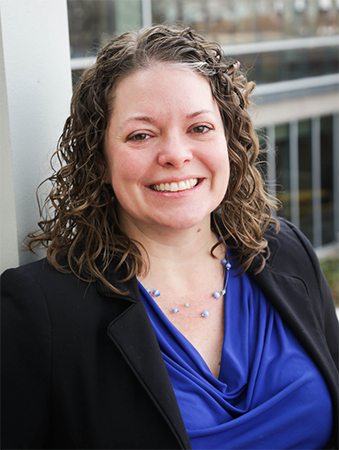 The National Academy of Medicine (NAM) has selected the Norman F. Gant/ABOG fellow for the class of 2023 NAM Fellowships: Michelle Debbink, MD, PhD!

ABOG-certified in OB GYN and Maternal-Fetal Medicine, Dr. Debbink is an assistant professor in the Department of Obstetrics and Gynecology at the University of Utah School of Medicine, Salt Lake City, and is the Vice Chair for Equity, Diversity, and Inclusion in the Department of Obstetrics and Gynecology at the University of Utah Health Sciences Center. She currently serves on the ACOG Committee on Indigenous Health, the Society for Reproductive Investigation's Diversity, Equity, and Inclusion Committee, and Utah's maternal mortality review committee (MMRC).
Dr. Debbink plans to build a research program that results in the meaningful change in the maternal mortality and morbidities that Native Hawaiian/Pacific Islander (NHPI) and Native American/Indigenous communities face in Utah.
"The Gant/ABOG fellowship offers an incredible opportunity to tie together so much of what brought me to medicine in the first place, weaving knowledge and advocacy to build a healthier nation," said Dr. Debbink. "I look forward to connecting with other fellows and the National Academy's committee members to learn new skills and forge partnerships to improve reproductive and maternal health."
The overall purpose of this fellowship is to enable talented, early-career health science scholars in obstetrics and gynecology to participate actively in health- and medicine-related work of the National Academies of Sciences, Engineering, and Medicine (the National Academies) and to further their careers as future leaders in the field. Supported through an endowment from Dr. Gant and ABOG, the program especially welcomes nominations of historically underrepresented candidates.
The Gant/ABOG Fellowship is awarded for a two-year period. During this time, the fellow is expected to continue to work at their main academic post, while being assigned to a health- and medicine-related board of the National Academies.
The fellowship requires a 10- to 20-percent commitment of time for two years and includes attendance at a one-week orientation to health policy, the NAM Annual Meeting in October and the meetings of the assigned board. Additionally, the fellow will participate actively in the work of an appropriate study committee or roundtable, including contributing to its reports or other products. Studies that would enable the potential for the fellow to contribute to the value of integrating medicine and public health will be identified.
This experience will introduce Dr. Debbink to a variety of experts and perspectives, including legislators, government officials, industry leaders, executives of voluntary health organizations, scientists, and other health professionals.
A flexible research grant of $25,000 will be awarded, which will be administered through the appropriate department at Dr. Debbink's home institution to advance her professional and academic career.
Learn more about the Gant/ABOG fellowship on the
NAM website
.