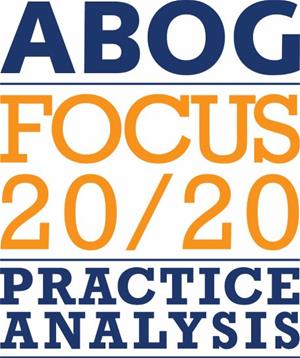 FOCUS 20/20 – Practice Analysis is a job task analysis (JTA) process used by the American Board of Obstetrics and Gynecology (ABOG) intended to maintain high degrees of relevancy and quality in the composition of specialty and subspecialty qualifying and certifying exams. Beyond its traditional meanings, FOCUS in this case is an acronym which stands for Focus on Certification Using Standards. Using this basic ideology as our foundation, FOCUS 20/20 is founded upon ABOG's commitment to maintain only the highest standards possible for its certification exams.
The implementation aspect of FOCUS 20/20 - Practice Analysis is a nationwide survey called the job task analysis, which involves comprehensive surveying of physicians in the field of the intended specialty or subspecialty. Learn more about ABOG's JTA process.
Inquiries about FOCUS 20/20 - Practice Analysis can be emailed to focus2020@abog.org.
The primary goal of FOCUS 20/20 - Practice Analysis: ground certification standards around two key principles:
| | |
| --- | --- |
| Relevancy | Survey ABOG Diplomates and gain knowledge from physicians caring for women on a daily basis as to what tasks are most common and critical. |
| | |
| --- | --- |
| Quality | Augment the quality of care ultimately provided by ensuring candidates are tested on and equipped for the current medical issues found across the broad spectrum of women's health care. |