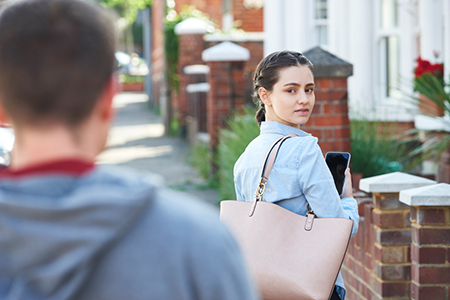 Stalking affects millions of women and men in the United States.
Stalking occurs when someone repeatedly harasses or threatens someone else, causing fear or safety concerns. Most often, stalking occurs by someone the victim knows or with whom they had an intimate relationship.
Help prevent stalking by knowing the warning signs and how to get help.
Facts about stalking
According to the National Intimate Partner and Sexual Violence Survey (NISVS):
Stalking is common. About one in six women and one in 17 men have experienced stalking in their lifetimes.
Stalking starts early. Nearly 54% of female victims and 41% of male victims experienced stalking before the age of 25.
Stalking impacts the physical and mental health of victims. Research shows stalking can lead to depression and post-traumatic stress disorder. About 68% of female and 70% of male victims experienced threats of physical harm during their lifetime.
Common stalking tactics
Stalking tactics can include:
Unwanted phone calls
Unwanted emails, instant messages, text messages, voice messages, or social media messages
Approaching a victim or showing up unwanted, such as at the victim's home, workplace, or school
Leaving strange or potentially threatening items for the victim to find
Watching, following, or tracking a victim
Sneaking into the victim's home or car and doing things to scare the victim or let them know the perpetrator had been there
Prevention is possible
Everyone can work together to know, name, and stop stalking by:
Helping other define and recognize stalking behaviors
Mobilizing men and boys as allies in prevention efforts
Creating and supporting safe environments within relationships, schools, and communities through programs and policies that promote healthy relationships
Need help? Know someone who does?
Contact your local service provider or a national hotline:
Victim Connect: 1-855-4VICTIM (1-855-484-2846)
National Domestic Violence Hotline: 1-800-799-7233 or TTY 1-800-787-3224 En Español
The National Sexual Assault Hotline: 1-800-656-HOPE (4673)